Intercoolers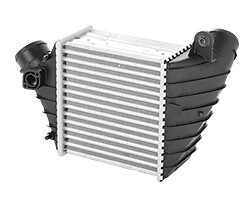 Over 80 million vehicles in Europe are equipped with turbo-charged systems and intercoolers. The intercoolers (Charge Air Coolers) are designed to reduce the fuel consumption while increasing the engine power and efficiency.
The turbocharger increases the power and torque but also increases the compressed air temperature sent to the engine. The intercooler's task is to reduce the temperature of the inlet gas and thus densify the air required which optimises the combustion.
The intercooler lowers the temperature of the inlet gas from 130° C to 60° C, removes the negative effects of the turbo and increases the power by around 20%.
Choose Valeo:
With its O.E. expertise in Thermal Systems, Valeo offers an aftermarket intercooler (Charge Air Cooler) range benefiting from strong experience:
> High performance
• Specially designed folded tubes and turbulators, to ensure the optimum
performance
• High resistance plastic for structural integrity
• Specific aluminium alloys developed to resist internal corrosion and
extreme operational conditions
• Gripping area for high pressure and hose connection, to ensure
connection between the intercooler and high pressure hoses (23-28mm)
• Flexible side plates, to allow the intercooler to expand its core under temperature
changes
• Reinforced ribs, to resist high working pressure
> O.E. quality by Valeo: Tests run for mechanical and corrosion resistance
(Thermal shocks, vibrations or durability)
> Wide range: 175 part numbers, covering most European popular applications equipped with turbochargers (817625 for AUDI A4, 817653 for AUDI A3, SKODA Octavia, SEAT Leon, VOLKSWAGEN Bora, 817994 for MERCEDES-BENZ Sprinter 3)
> Reactivity: a high capacity to quickly supply the aftermarket
> Smart packaging: All intercoolers are carefully packaged, in order to minimise
the risk of transport damage and provide the most practical usage.
Valeo Info:
Possible cause of intercooler failure
> Stress & heat constraint:
• High operating temperatures and pressures
(according to Euro 5 & 6 standards)
• Vehicle vibrations
> Corrosion of the Core
• External corrosion, depending on car environment salt degree.
• Internal: even more constraining with Euro 6 standards as
car makers using EGR Low Temperature introduce exhaust gases
into the intercooler circuit (highly corrosive)
> Turbocharger failure: an intercooler must always be replaced after a turbocharger failure or when installing a new turbo unit.
> Improper maintenance: Incorrect lubricant oil replacement, overly tight connections, incorrect check or incorrect cleaning (air intake manifold) are also some causes of the intercooler failure